44 Resume Writing Tips
Having a solid and effective resume can greatly improve your chances of landing that dream job. That is beyond discussion. How does one make sure that his resume is top notch and bullet proof, however? There are several websites with tips around the web, but most bring just a handful of them. We wanted to put them all together in a single place, and that is what you will find below: 44 resume writing tips.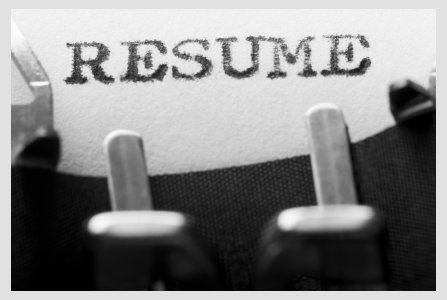 1. Know the purpose of your resume
Some people write a resume as if the purpose of the document was to land a job. As a result they end up with a really long and boring piece that makes them look like desperate job hunters. The objective of your resume is to land an interview, and the interview will land you the job (hopefully!).
2. Back up your qualities and strengths
Instead of creating a long (and boring) list with all your qualities (e.g., disciplined, creative, problem solver) try to connect them with real life and work experiences. In other words, you need to back these qualities and strengths up, else it will appear that you are just trying to inflate things.
3. Make sure to use the right keywords
Most companies (even smaller ones) are already using digital databases to search for candidates. This means that the HR department will run search queries based on specific keywords. Guess what, if your resume doesn't have the keywords related to the job you are applying for, you will be out even before the game starts.
These keywords will usually be nouns. Check the job description and related job ads for a clue on what the employer might be looking for. You can read more about resume keywords on the article Tapping the Power of Keywords to Enhance Your Resume's Effectiveness.
4. Use effective titles
Like it or not, employers will usually make a judgment about your resume in 5 seconds. Under this time frame the most important aspect will be the titles that you listed on the resume, so make sure they grab the attention. Try to be as descriptive as possible, giving the employer a good idea about the nature of your past work experiences. For example:
Bad title: Accounting
Good title: Management of A/R and A/P and Recordkeeping
5. Proofread it twice
It would be difficult to emphasize the importance of proofreading your resume. One small typo and your chances of getting hired could slip. Proofreading it once is not enough, so do it twice, three times or as many as necessary. If you don't know how to proofread effectively, here are 8 tips that you can use.
6. Use bullet points
No employer will have the time (or patience) to read long paragraphs of text. Make sure, therefore, to use bullet points and short sentences to describe your experiences, educational background and professional objectives.
7. Where are you going?
Including professional goals can help you by giving employers an idea of where you are going, and how you want to arrive there. You don't need to have a special section devoted to your professional objectives, but overall the resume must communicate it. The question of whether or not to highlight your career objectives on the resume is a polemic one among HR managers, so go with your feeling. If you decide to list them, make sure they are not generic.
8. Put the most important information first
This point is valid both to the overall order of your resume, as well as to the individual sections. Most of the times your previous work experience will be the most important part of the resume, so put it at the top. When describing your experiences or skills, list the most important ones first.
9. Attention to the typography
First of all make sure that your fonts are big enough. The smaller you should go is 11 points, but 12 is probably safer. Do not use capital letters all over the place, remember that your goal is to communicate a message as fast and as clearly as possible. Arial and Times are good choices.
10. Do not include "no kidding" information
There are many people that like to include statements like "Available for interview" or "References available upon request." If you are sending a resume to a company, it should be a given that you are available for an interview and that you will provide references if requested. Just avoid items that will make the employer think "no kidding!"
11. Explain the benefits of your skills
Merely stating that you can do something will not catch the attention of the employer. If you manage to explain how it will benefit his company, and to connect it to tangible results, then you will greatly improve your chances.
12. Avoid negativity
Do not include information that might sound negative in the eyes of the employer. This is valid both to your resume and to interviews. You don't need to include, for instance, things that you hated about your last company.
13. Achievements instead of responsibilities
Resumes that include a long list of "responsibilities included…" are plain boring, and not efficient in selling yourself. Instead of listing responsibilities, therefore, describe your professional achievements.
14. No pictures
Sure, we know that you are good looking, but unless you are applying for a job where the physical traits are very important (e.g., modeling, acting and so on), and unless the employer specifically requested it, you should avoid attaching your picture to the resume.
15. Use numbers
This tip is a complement to the 13th one. If you are going to describe your past professional achievements, it would be a good idea to make them as solid as possible. Numbers are your friends here. Don't merely mention that you increased the annual revenues of your division, say that you increased them by $100,000, by 78%, and so on.
16. One resume for each employer
One of the most common mistakes that people make is to create a standard resume and send it to all the job openings that they can find. Sure it will save you time, but it will also greatly decrease the chances of landing an interview (so in reality it could even represent a waste of time). Tailor your resume for each employer. The same point applies to your cover letters.
17. Identify the problems of the employer
A good starting point to tailor your resume for a specific employer is to identify what possible problems he might have at hand. Try to understand the market of the company you are applying for a job, and identify what kind of difficulties they might be going through. After that illustrate on your resume how you and your skills would help to solve those problems.
18. Avoid age discrimination
It is illegal to discriminate people because of their age, but some employers do these considerations nonetheless. Why risk the trouble? Unless specifically requested, do not include your age on your resume.
19. You don't need to list all your work experiences
If you have job experiences that you are not proud of, or that are not relevant to the current opportunity, you should just omit them. Mentioning that you used to sell hamburgers when you were 17 is probably not going to help you land that executive position.
20. Go with what you got
If you never had any real working experience, just include your summer jobs or volunteer work. If you don't have a degree yet, mention the title and the estimated date for completion. As long as those points are relevant to the job in question, it does not matter if they are official or not.
21. Sell your fish
Remember that you are trying to sell yourself. As long as you don't go over the edge, all the marketing efforts that you can put in your resume (in its content, design, delivery method and so on) will give you an advantage over the other candidates.
22. Don't include irrelevant information
Irrelevant information such as political affiliation, religion and sexual preference will not help you. In fact it might even hurt your chances of landing an interview. Just skip it.
23. Use Mr. and Ms. if appropriate
If you have a gender neutral name like Alex or Ryan make sure to include the Mr. or Ms. prefix, so that employers will not get confused about your gender.
24. No lies, please
Seems like a no brainer, but you would be amused to discover the amount of people that lie in their resumes. Even small lies should be avoided. Apart from being wrong, most HR departments do background checks these days, and if you are buster it might ruin your credibility for good.
25. Keep the salary in mind
The image you will create with your resume must match the salary and responsibility level that you are aiming for.
26. Analyze job ads
You will find plenty of useful information on job ads. Analyze no only the ad that you will be applying for, but also those from companies on the same segment or offering related positions. You should be able to identify what profile they are looking for and how the information should be presented.
27. Get someone else to review your resume
Even if you think you resume is looking kinky, it would be a good idea to get a second and third opinion about it. We usually become blind to our own mistakes or way of reasoning, so another people will be in a good position to evaluate the overall quality of your resume and make appropriate suggestions.
28. One or two pages
The ideal length for a resume is a polemic subject. Most employers and recruiting specialists, however, say that it should contain one or two pages at maximum. Just keep in mind that, provided all the necessary information is there, the shorter your resume, the better.
29. Use action verbs
A very common advice to job seekers is to use action verbs. But what are they? Action verbs are basically verbs that will get noticed more easily, and that will clearly communicate what your experience or achievement were. Examples include managed, coached, enforced and planned. Here you can find a complete list of action verbs divided by skill category.
30. Use a good printer
If you are going to use a paper version of your resume, make sure to use a decent printer. Laser printers usually get the job done. Plain white paper is the preferred one as well.
31. No hobbies
Unless you are 100% sure that some of your hobbies will support you candidacy, avoid mentioning them. I know you are proud of your swimming team, but share it with your friends and not with potential employers.
32. Update your resume regularly
It is a good idea to update your resume on a regular basis. Add all the new information that you think is relevant, as well as courses, training programs and other academic qualifications that you might receive along the way. This is the best way to keep track of everything and to make sure that you will not end up sending an obsolete document to the employer.
33. Mention who you worked with
If you have reported or worked with someone that is well known in your industry, it could be a good idea to mention it on the resume. The same thing applies to presidents and CEOs. If you reported to or worked directly with highly ranked executives, add it to the resume.
34. No scattered information
Your resume must have a clear focus. If would cause a negative impression if you mentioned that one year you were studying drama, and the next you were working as an accountant. Make sure that all the information you will include will work towards a unified image. Employers like decided people.
35. Make the design flow with white space
Do not jam your resume with text. Sure we said that you should make your resume as short and concise as possible, but that refers to the overall amount of information and not to how much text you can pack in a single sheet of paper. White space between the words, lines and paragraphs can improve the legibility of your resume.
36. Lists all your positions
If you have worked a long time for the same company (over 10 years) it could be a good idea to list all the different positions and roles that you had during this time separately. You probably had different responsibilities and developed different skills on each role, so the employer will like to know it.
37. No jargon or slang
It should be common sense, but believe me, it is not. Slang should never be present in a resume. As for technical jargon, do not assume that the employer will know what you are talking about. Even if you are sending your resume to a company in the same segment, the person who will read it for the first time might not have any technical expertise.
38. Careful with sample resume templates
There are many websites that offer free resume templates. While they can help you to get an idea of what you are looking for, do not just copy and paste one of the most used ones. You certainly don't want to look just like any other candidate, do you?
39. Create an email proof formatting
It is very likely that you will end up sending your resume via email to most companies. Apart from having a Word document ready to go as an attachment, you should also have a text version of your resume that does not look disfigured in the body of the email or in online forms. Attachments might get blocked by spam filters, and many people just prefer having the resume on the body of the email itself.
40. Remove your older work experiences
If you have been working for 20 years or more, there is no need to have 2 pages of your resume listing all your work experiences, starting with the job at the local coffee shop at the age of 17! Most experts agree that the last 15 years of your career are enough.
41. No fancy design details
Do not use a colored background, fancy fonts or images on your resume. Sure, you might think that the little flowers will cheer up the document, but other people might just throw it away at the sight.
42. No pronouns
You resume should not contain the pronouns "I" or "me." That is how we normally structure sentences, but since your resume is a document about your person, using these pronouns is actually redundant.
43. Don't forget the basics
The first thing on your resume should be your name. It should be bold and with a larger font than the rest of the text. Make sure that your contact details are clearly listed. Secondly, both the name and contact details should be included on all the pages of the resume (if you have more than one).
44. Consider getting professional help
If you are having a hard time to create your resume, or if you are receiving no response whatsoever from companies, you could consider hiring a professional resume writing service. There are both local and online options are available, and usually the investment will be worth the money.
Recommended For You
Share
Subscribe to Receive our Articles and Exercises via Email
You will improve your English in only 5 minutes per day, guaranteed!
Subscribers get access to our exercise archives, writing courses, writing jobs and much more!
You'll also get three bonus ebooks completely free!
Try It Free Now
90 Responses to "44 Resume Writing Tips"
Clarise

Nice blog. I'll apply this in writing my resume. I hope I can land on my dream job soon! Thank you!

Jobnab

These are all really great valid resume tips! I think its also important to note that, in the age of social media, its also important to clean up your "online" resume. Your paper resume may look great but if those employers go online and see your Friday night escapades… it may not go as well as you'd like.

Whalleh

I really find this piece of document useful. Great work.
However, i think some of us will need more on cover letters and its associated formats.
Thanks in advance for that.

Frances Pippin

I found 3 misused words.Buster should be busted in 24; no should be not in 26; and in 27 it should read person would be, not people will be. The contents will be very helpful. This is the first time in many years i've needed to use a resume, after leaving a job of several years, so it all seems once again, foreign. Thank you for the help.

Judy K-R

Awesome tips. So glad I've stumbled upon the site. After using the same CV and cover letter format for a bunch of years, I'm learning a lot these days from this and other websites, blogs, etc.

I have several questions:
* If we shouldn't use I, what's a work-around? From way-back in grammar school I was taught that sentences that begin w/ "I" should never be used back-to-back. So I've always started any following sentences w/ a phrase, adverb, etc. Need more input on this though.
* I do not use complete sentences on my CV. I use bullets and start each with a capital letter. Have never been sure if a period should be used at the end of each.
* I need help in creating a new, non-professional resume. I'm losing hope of finding a job in my specific field of medical physics, so I need to create a resume for general jobs. Example: an overnight attendant at an in-house care facility. Any advice from this site and/or bloggers will be appreciated.
* Positions in cancer care are extremely stressful for patients AND staff. I've used phrases such as "a little dose of humor goes a long way in the clinic…". Is this appropriate?
* Has the term, "team player" been overused? If so, does anyone have suggestions for a substitute?

I'm sitting here today tailoring a new resume for a specific company in a related field. Wish me luck! I'll re-post if my resume lands me an interview.

Hoping that I haven't exceeded any word limit in this comment, I look forward to any and all feedback.

anne

OK…there's also one in #26.

anne

I noticed a typo in tip #24.

I also noticed that at least one other person reported it as far back as Jan 2010, and it hasn't been corrected nearly a year and a half later.

I believe "buster" should be "busted"….?

Paul Chernish

What a great list of tips. After 30 years in the industry, I thought I saw them all. Until now! Good work.

essay writing

Well that's amazing article. I just discovered your website and have to say that I have really enjoyed reading your blog content. I am looking forward to read your next great article… Nice article, thanks fro the sharing this great and very informative and knowledgeable post with us.

Andrew

The statement "It would be difficult to emphasize the importance of proofreading your resume" in point 5 (titled "Proofread it twice") appears not to have itself been effectively proofread; "emphasize" should be "overemphasize".

Sorry if I sound overly critical, but that is irony too delicious to pass up noting.

S. Musa Mohseni

Tanks a lot,
It's very usefull for me.

@acerlocc13

well the thing is when you see a little exspectation on the left side of the contraditional partusenter part of the constatioional parts it will be the same as the tarmanativesomal

Cheryl

May I draw your attention to 2 typos I found? One in #9, when talking about fonts, the smallEST you should go…. And the second on in #24, I'm pretty sure that should say if you are BUSTED, not buster. But otherwise, great tips. I saw a couple things that I wouldn't have thought about doing, so thanks!

Charlene

I work in the Workforce Development Industry and I find this tool to be very helpful for our customers. We have a great percentage on Monolingual customers and I would like to know if you have this article in Spanish?

roddy

my resume would be crap with these suggestions:
Roddy

Job history:
volunteer work

professional goals:
Pharmacy technology

zero

thank you for that tip it will surely increase the chances of landing a dream job!

Wesley Hanna

As to keeping off hobbies – bad idea! Don't list a hobby if it take space away from more relevant info or throws you onto a second page, but listing a couple key personal interests has done me well. Did listing them prevent me from getting interviews? I suppose I'll never know. But once I got to the interview, my one line of personal interests almost always helped me and I credit the conversations that flowed from that section as instrumental in the jobs I've landed.

When I was graduating college, a very successful uncle sat me down and helped me prepare for my first professional interview. His most important advice was that employers were not going to hire my GPA, my achievements, or the activities I was involved in. For me to get a job, they'd have to hire me. And that meant that employers – in addition to looking for the most technically qualified candidate – were looking to see if I was somebody that would fit in, be fun to work with, and contribute to the culture in a positive manner.

So about midway through any interview, I usually get a question along the lines of "so where do you like to hike?" or "do you play guitar in a band or just for fun?" And either of those questions lets me put on a hat that's different from aggressive litigator – I get to show the interviewer fun guy story teller with an enriching life. I believe my most important jobs were landed partly because of those conversations.

Mike DeCarlo

Hey, great info! I'm reviewing my resume now!

Rashmi Priya

The tips mentioned in the article are very realistic and all points have been covered.

Amanda

I really appreciate this blog on resume writing! It is useful to so many audiences at so many different stages in their careers. You have done a great job at summarizing the best tips for resume writers. They are easy to understand and very insightful, yet include things that most of us would neglect to think of. This list is creative and comprehensive. I found it very helpful with tweaking my own resume, and it offers advice for anyone hoping to stand out! With the competitive economy, I believe that this post is especially intriguing. Thank you for sharing your tips.

Line

Thanks for the tips. I am sure I will be able to use some of them. Just want to point out however, there is a typo in #27

"so another people will be in a good position to evaluate the overall quality of your resume and make appropriate suggestions"

Christian

Dear friends
Before 2004 I worked in the banking field as credit department manager.This hapenned before I imigrate in US.
Since 2004 I am working as a truck driver.I would like to get back in the office.Any suggestions in writing my resume?

Jeri-Anne Smith

Great points there! Also, you should include to not put an "cutesy" or whatever email address on your resume.. such as "Hottie10@—.com

use a professional looking email address.. trust me.. it makes a huge difference.. one look at "Playa69@—.com and your resume is tossed in the trashed without employers even looking at it. They assume you aren't grown up enough or serious for the position.

Angie

Thank you. I am trying to do a resume workshop for the students in my school and I found this very helpful.

ukjobsguide

Thanks for the interesting post. This sounds like a great start-up idea. A lot of these companies online don't give the best quality. I look forward to reading more from you in the

Anonymous

There's a typo in point 24. While your advice is good, that doesn't make you seem very credible.

Annie Matthews

This information is helpful. now i need to know how to write a autobiography about myself. my penmanship is so bad i'm ashamed of my own writing.

Trisha

Very helpful hints. I had a business and now looking for a job in this bad economy. Found a job listing for a job I would really like to get close to home and that I have skill for. Your tips were very helpful

Resume Writing Service NZ

Great Tips,

One more tip which relates to Number 5. Is to get a friend or family member to proof read your resume as its easy when you spend an hour or so on your resume to start over looking simple mistakes.

Sharon

Really great tips. I like your blog!