If you read my post of resume tips a few weeks ago, you'll already be familiar with best practice for writing a great resume.
While there's nothing wrong with hand-crafting your resume in Microsoft Word (or your word processor of choice), there are plenty of online tools that can save you lots of time by formatting your resume in seconds.
Plus, if you're still struggling with exactly what to put on your resume in the first place – there's lots of great advice out there.
Before we get into the list of great tools and resources, there are a couple of crucial things to keep in mind:
Whatever tools you use, employers will expect a resume that conforms to a standard format. There are some nifty tools out there that let you create a resume that looks like, say, an infographic: unless you're very certain that'll go down well with your potential employer, stick to something a little more conventional.
Tools can be hugely helpful … but they can only do so much. If there are major issues with your resume (like a huge unexplained gap in your work history, or a total mismatch between your listed skills and what an employer wants), you'll want to fix those problems before trying to format your resume beautifully.
With those caveats out of the way, here's the list:
Online Advice and Support on Creating Your Resume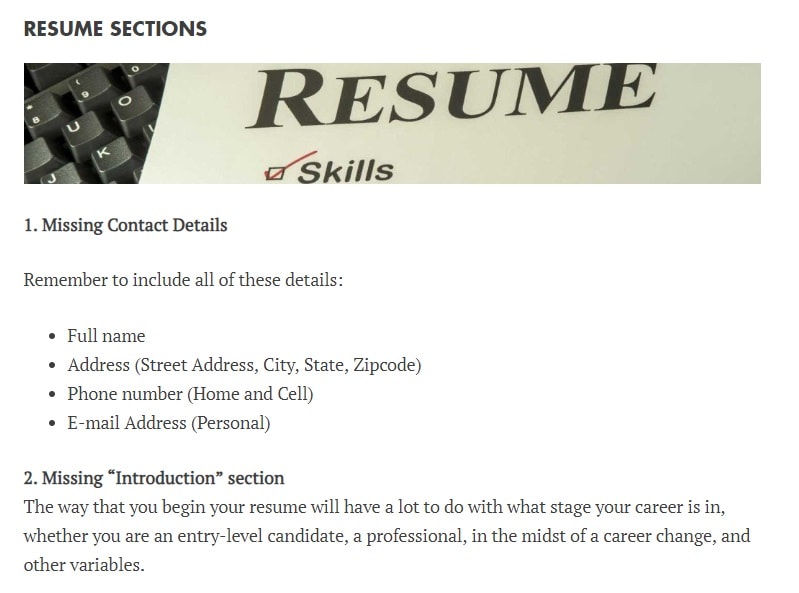 I love the blog "Ask a Manager" by Allison Green (though be warned, it's an easy place to spend a little too much time reading about other people's weirdly dysfunctional workplaces). There's a whole category of advice about "Resumes", which is well worth a read.
(Allison Green is a manager who's been extensively involved in hiring and really knows her stuff. You can submit your own questions to her, if you have a resume query that hasn't already been covered on the blog.)
If you're writing a resume for the first time – or after a long time away from employment – then you might feel quite unclear on how a resume should even look. Going through some resume samples can be really helpful, because it gives you a good feel for what potential employers will expect.
There are plenty of sites out there offering sample resumes, but Resume Genius is a particularly easy-to-use one, with samples categorised by industry, and with related samples like cover letters, plus additional tips. You can click to download a sample as a Microsoft Word document without having to sign up or put in your email address.
Tip: Don't assume that the wording or layout of a sample is perfect (or that it's perfect for the role you have in mind): it won't necessarily be appropriate to copy a particular phrase that a sample resume or cover letter uses, for instance. In any case, you should be very careful about using wording from any sample unless it's something very standard (like "I am interested in applying…" or "Thank you for your consideration"), unless you have express permission – otherwise, copying the sample is plagiarism.
This is a single article, but one I wanted to link to because it provides a very honest and valuable perspective from the other side of the fence. It's easy to end up agonising over things on your resume that don't really matter – or giving too much importance to areas that employers simply aren't that interested in (like your educational history).
Tip: Although published by a UK newspaper, the author of the piece (Ambra Benjamin) is American, so the advice here applies fairly well on either side of the Atlantic.
This is another single article, but one that's packed with practical tips and lots of links to further information, from the big picture (focusing on recent, relevant jobs) to the little details (avoiding using the same words repeatedly). Note that the article is aimed at US readers, so if you're in a different country, you may find that some of the advice doesn't necessarily apply – and even if you are in the US, don't feel that you have to follow every single point slavishly.
Give this a skim-read when you're first putting together your resume; you can then go through it point by point as you edit and polish your resume, following the links to further information if there's a particular area where you need extra help or want more details.
Tip: There's some particularly good advice towards the end of the article about saving and sending your resume – do make sure that it displays correctly once emailed (you can send it to yourself and check it on another computer), and make sure you include your name in the file name, not just "Resume" or "CV".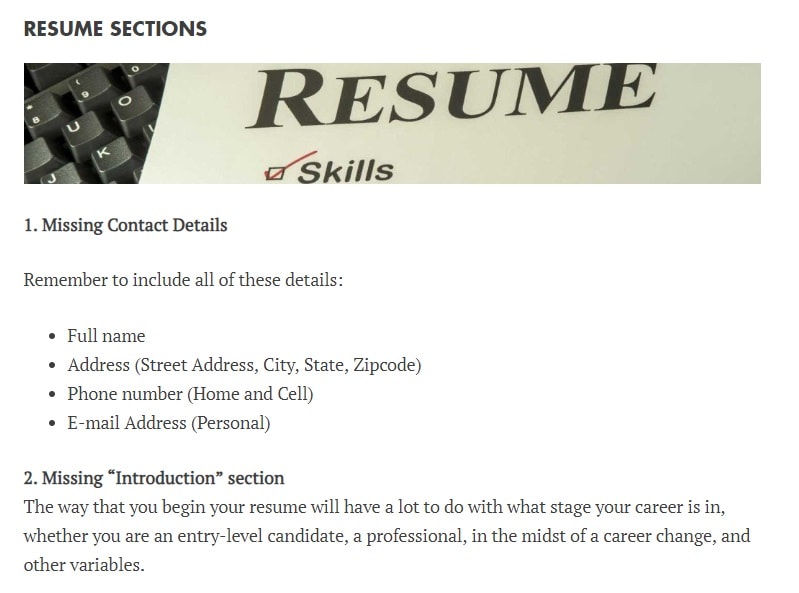 This piece, like the one from The Muse, collects together lots of practical tips – with links to further help when needed. It's a little different, though, in that it's a collection of common mistakes – things that the team at Rescue Genius see on a daily basis when reviewing people's resumes (like "forgot to use action verbs" or, worryingly, "misspelled own name").
Some of the mistakes might seem like obvious ones to avoid, but others are ones you might never have thought about before – like "weak bullet points displayed before strong ones" and "not bringing multiple copies of it to interview".
Tip: The article is US-focused, but a lot of these tips will apply wherever you are in the world.  There might be cases where standard practice in your own country is different, though – so do seek local advice as well, and ignore the tips/mistakes that don't apply to you.
Tools to Create Your Resume
Canva offers a wide range of design tools and resources, and it has a great resume building tool. You start by writing your name and then you will be able to pick the style you are looking for. For example, you can go with corporate style, acting resume, high school, creative professional and so on.
The next step is to pick the templates you like from a list of available ones. Finally, you will be able to input your resume information and to edit any design aspects you want. Overall the process is very simple and will produce a professional looking resume in a very short time.
If you want a straightforward way to create a resume, why not use Google Docs's templates? Click on the link above to go straight to the "Template gallery", then click "General" to view them. You should see a whole series of different templates: scroll down to get to the resumes.
Click your chosen template to load it up, then simply fill in the details. Keep in mind that once you've chosen a template to edit, you can't switch your text to a different template – so you might want to try a few before you settle on one.
Tip: Most of the resume templates have a corresponding "letter" template that uses the same colours and fonts. You might want to use this for your cover letter (if you're not simply including the cover letter in the body of an email).
#7: Kickresume (free/paid), Kickresume SRO
Kickresume is a free and straightforward site that lets you create a standard resume, providing templates for both resumes and cover letters (plus websites). It's simple to use, though you will need to create an account (or you can login via Google, Facebook or LinkedIn).
To save time, you can import your LinkedIn profile, by downloading a .zip file from LinkedIn and uploading it to Kickresume – full instructions are provided. You can change the template you're using at any time, without losing any of the text you've uploaded or inputted. There are only three basic, free templates though – if you want to use the "pro" options, you'll need to upgrade to the paid plan ($15/month or $48/year).
Tip: Some of the resume templates include space to put a photograph of yourself. This isn't standard practice in the US or UK for resumes, so if you're in those countries, you may want to choose a template that only has text content.
#9: Enhancv (paid, has free trial)
Enhancv is a complete platform for those looking to create a modern and effective resume. After signing up you will be prompted to choose one of the many existing templates. you will then be able to edit all the sections with your personal information and experience. One interesting feature the platform offers are the automated suggestions to improve the wording of specific parts of your resume.
This is a paid product, but it comes with a free 7-day trial. On top of that the website offers a wide range of resources and articles you can use to improve your resume without paying anything.
#10: CV Maker (free, paid), CV Maker
CV maker offers several basic templates for creating a resume. You fill in your information in a form, and you can then switch between different templates if you want to. While it's possible to create your resume without logging in, you'll need to create an account if you want to save your CV and edit it in the future.
It's free to create an account, and you'll get full access to the basic templates and to the save/download features. The premium level (which gives you lots of advanced options) only costs $16/year, too – so you might decide it's worth upgrading.
Tip: CV Maker's site is available in a wide range of different languages: if English isn't your native language, you can easily change this from the drop-down menu at the top of the site or the list in the footer.
#11: Standard Resume (free, paid), Minimum Works
Standard Resume has a very straightforward LinkedIn import – you can bring in all your information from LinkedIn, then edit or add anything you need to. As with Kickresume and CV Maker, the basic templates are free; you can pay for a premium account ($5/month or $20/year) to tailor your resume further.
Unlike some other sites, Standard Resume keeps the templates simple and straightforward: you won't find profile photos or odd infographic elements here. If you're applying to a fairly traditional industry, or if you just want to keep things as simple as possible, that could make Standard Resume a great option for you.
Tip: The pro level also lets you see when your resumes have been viewed and/or downloaded, which you might find useful.
In Top 10 Online Tools to Help You Write the Perfect Essay, I covered the popular spelling and grammar checking tools Grammarly and Hemingway. Slick Write is similar: you can paste in a passage of writing (or use a Chrome or Firefox extension) and it will automatically flag up potential problems. You could use it on your cover letter or any emails you need to send, as well as on your resume.
While I don't think any tool can replace careful proofreading – and ideally, a second pair of eyes on your resume – Slick Write can help you to edit your work. It's completely free, so well worth a try. (It is, however, funded by ads, which you may find slightly intrusive or annoying.)
Tip: As with any grammar checker, don't feel that you have to follow every single recommendation. You might decide that your phrasing is fine as it is!
—
Whatever tools you use to help, writing a resume can be tough. You need to convey, clearly and concisely, exactly why you'll be a good fit for a particular role – in a standard format that supplies potential employers with all the information they'll expect. For further help on knowing what to include in your resume, take a look at my article Top 10 Resume Writing Tips for 2018.
Best of luck with your job-hunting.