Punctuation Is Powerful
The image we published last Saturday was quite popular, so I decided to run another one this Saturday.
The theme is the same: punctuation.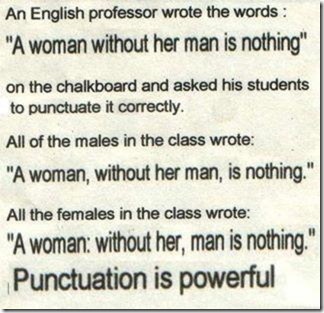 For those who can't see the image, here's what it says:
An English professor wrote the words:

"A woman without her man is nothing"

on the chalkboard he asked the students to punctuate it correctly.

All of the males in the class wrote:

"A woman, without her man, is nothing."

All of the females in the class wrote:

"A woman: without her, man is nothing."

Punctuation is powerful.
I also wanted to thank all the readers who sent ideas and images. If you want to send one simply email it to info@dailywritingtips.com.
Want to improve your English in five minutes a day? Get a subscription and start receiving our writing tips and exercises daily!
Keep learning! Browse the Punctuation category, check our popular posts, or choose a related post below:
Stop making those embarrassing mistakes! Subscribe to Daily Writing Tips today!
You will improve your English in only 5 minutes per day, guaranteed!
Subscribers get access to our archives with 800+ interactive exercises!
You'll also get three bonus ebooks completely free!
Try It Free Now