10 Shelf-Sign Errors
Errors on store signs are less egregious and more common than those on the products sold themselves, but one wonders, based on these photographs (and on the mistakes we see all the time while we're shopping) if anybody who works in retail is paying any attention.
Somehow, this rollback doesn't seem like such a good deal. I assume the person who prepared the sign simply used the wrong currency symbol, and I assume store employees don't ever look at the signs. This error rarely shows up in print or online, though redundant use of both dollars and the dollar sign (as in "He spent less than $500 dollars") appears on occasion.
What's a flue shot? Getting ejected out of a chimney like a human cannonball? I'd pay twenty bucks for that — as long as a parachute is included in the cost.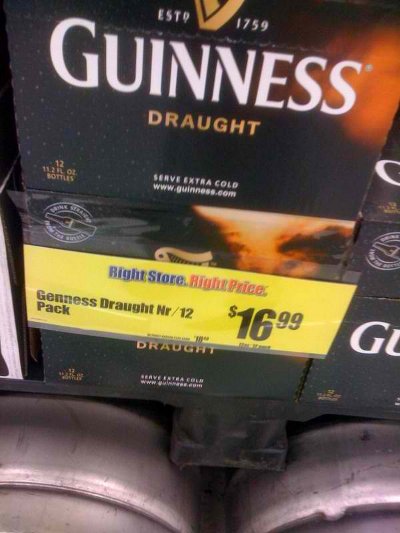 The employee who typed this sign evidently didn't have a 12-pack of "Genness" on hand for reference — or maybe they did, and sampled some.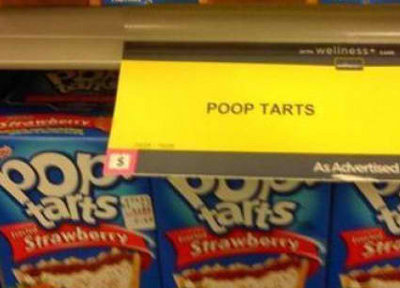 No, thanks — for some reason, I'm just not that hungry anymore.
Now, that, on the other hand, I might just have to try. (What was on that employee's mind?) The N key, you'll note, is close to but not adjacent to the K key, so a simple slip of a finger didn't cause this typo.
I've been wondering what Dan Quayle is up to these days. Not only is potato misspelled, but salads has an extraneous apostrophe. Third offense: Why "potatoe salad" but "macaroni salad's"? Make both salads singular, or make both plural, Dan.
And the person who type's these sign's is misinformed about how to style plural's.
Stationary looks anything but — it appears that the word (which should be spelled stationery in this sense) and flashlights are about to make a break for it.
Just what, exactly, is a Skittles Theather Box? Presumably, theathering is involved. It appears that this shelf holds every type of movie-watching snack but Skittles, but whatever.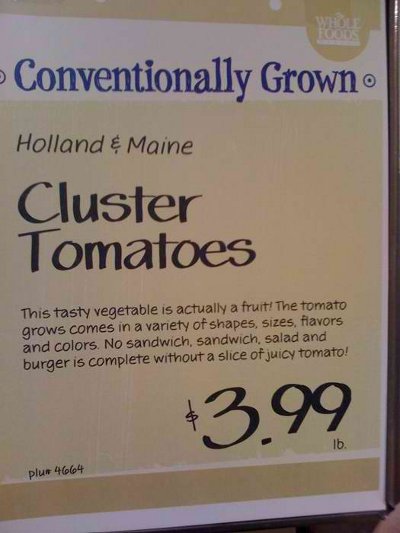 The sign maker, and fellow Whole Foods employees, didn't catch the dueling verbs at the beginning of the second line. As regular Daily Writing Tips readers are wont to remark, I make mistakes like this on occasion (despite reading posts aloud while I proof), but this error seems too obvious to overlook. And what's up with "conventionally grown"? That's an awkward counterpart to organic — why would any self-respecting Whole Foods customer buy something conventional?
These images are from the websites Apostrophe Abuse, English Fail Blog, GrammarBlog, The Great Typo Hunt, and Wordsplosion.
Want to improve your English in five minutes a day? Get a subscription and start receiving our writing tips and exercises daily!
Keep learning! Browse the Spelling category, check our popular posts, or choose a related post below:
Stop making those embarrassing mistakes! Subscribe to Daily Writing Tips today!
You will improve your English in only 5 minutes per day, guaranteed!
Subscribers get access to our archives with 800+ interactive exercises!
You'll also get three bonus ebooks completely free!
Try It Free Now