Top 10 Writing Apps for Android Smartphones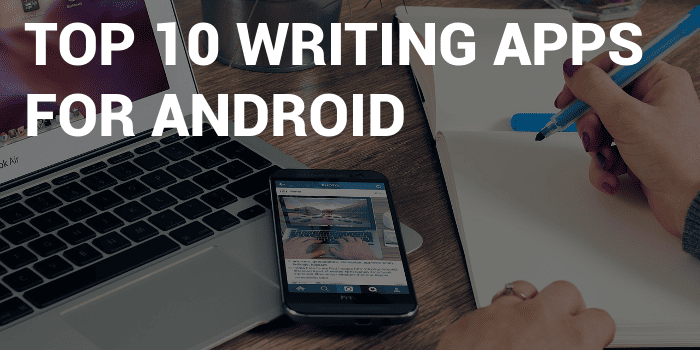 Today's modern writer doesn't always have time to sit down at his desktop and write. With more and more writers living the digital nomad style, there is a major demand for technology that can help.

If you are an Android user, here are 13 writing apps that you should know about.

This one is pretty self-explanatory. Even the best writers make spelling mistakes from time to time. Whether you are writing professionally or casually, clarifying the spelling or meaning of a word is important and nothing to be ashamed of.

The Dictionary.com app boasts 2 million definitions and synonyms and it is guaranteed to help you stay up to date on the words you use.

2. DropBox

Before you question the addition of DropBox, you need to understand why it is an important app for writers.

Writers often work on multiple devices and being able to access your files across all of them is essential.

DropBox offers you a seamless cloud experience, the ability to edit your word files, and so much more.

As a writer myself, I've been a paying customer for nearly 3 years now and will continue to use it.

3. Monospace

Monospace might not look like much, but it offers one of the best barebones experiences you will find.

If you value a minimalist writing style that allows you to do the basics, like bold, italics, strikethrough, bullets, quotes, and sizing, then this is the perfect writing app for you.

What makes Monospace so good at what it does is that it trims away all of the unnecessary fat that other writing apps are bloated with.

4. JotterPad

JotterPad, like Monospace, is a plain text editor that is capable of helping you write on the go.

This writing app is a favorite amongst creative writers because of its simple style. It also features a dictionary, which will help you stay on top of those nasty typos.

5. Writer Plus

Writer Plus doesn't shy away from what it really is, a simplified word processor. This no-frills word processor will allow you to write down your ideas, but not much else.

One of the best features Writer Plus has is the support of keyboard shortcuts like undo, redo, and more.

You can also save and share files with your friends, which makes it the ideal program to use if you are collaborating with others.

What kind of Android writing app list would this be if we didn't include Microsoft Word?

Microsoft Word is arguably the most robust writing program on the market. It boasts a slew of features, some of which you may never use, but just having them is nice.

Because this app is designed by Microsoft, it comes with a lot of extra functionality. For example, you can edit all Office docs, old and new, and it can even edit docs that are attached to emails.

This is the perfect app to use if you need something a little more professional than Monospace or JotterPad.

7. ColorNote

If you need something a little simpler than a traditional word processor, ColorNote is what you are looking for.

What makes ColorNote ideal is the way that it lets you take quick notes and color code them. This will allow you to organize your projects.

Another underrated feature of ColorNote is the password system it provides you with. If you are taking notes that contain sensitive information, simply put a password on the note to protect it.

8. Simple Note

Maybe you want something less colorful than ColorNote? Try Simple Note.
Simple Note is lightweight, fast, and you can pin your notes to specific pages on your phone.

This is my personal go-to note-taking app and has been for the last 2 years.

9. Evernote

Evernote takes note-taking to the next level. This feature-rich app allows you to take notes, organize them, format them, and so much more.

One of the best Evernote features is its ability to clip web pages, images, and PDF files.

The program also syncs with your computer, allowing you to create notes that you can share across all platforms.

If you are working in groups, you can share your Evernote files with your friends and colleagues.

10. INKredible – Handwriting Note

INKredible certainly isn't the most useful of the Android apps mentioned. However, it does allow you to take handwritten notes if you prefer to take your notes in an old-fashioned way.

The developers of this app decided to create a distraction free experience, meaning that you will not have to fight with a clunky UI to take your notes.

This application works best on tablets due to their larger screens.

Personal Preference

In the end, personal preference is everything. Some people love feature-rich apps, while others prefer plain text word processors.

If you think we missed an important Android writing app, let us know in the comments below.

Recommended for you: « How to Test for Coordinate and Noncoordinate Adjectives »



Subscribe to Receive our Articles and Exercises via Email
You will improve your English in only 5 minutes per day, guaranteed!
Subscribers get access to our exercise archives, writing courses, writing jobs and much more!
You'll also get three bonus ebooks completely free!
Try It Free Now
1 Response to "Top 10 Writing Apps for Android Smartphones"
Tadd Mencer

Personally, I can't stand writing anything on my phone. It never feels fluid enough. If I need to take notes, or reminders, or see something interesting I want to save for later I'll use Google Keep and Trello. That was I have access on my laptop or desktop later without jumping through any hoops.