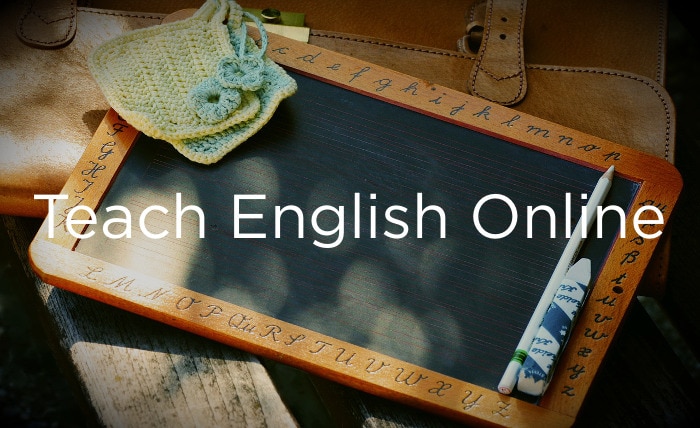 Are you looking to make some extra money, perhaps to fund your studies or travels?
One great way to do that is by teaching English online.
This can be a flexible, enjoyable job that works well around other commitments, as you can work from anywhere with a good internet connection and minimal background noise.
If you want to move abroad to take up an ESL job, teaching English online can give you valuable experience for your resume … as well as valuable cash in your pocket.
Online, you'll normally be teaching one-to-one classes: ideal if you don't want to have to worry about issues like classroom management, or helping a bunch of students with different levels of English.
Key Requirements for Teaching English Online
You don't need a degree in English or in teaching to teach English online – though it goes without saying that you will need to be a native or completely fluent English speaker. Some online schools will also want you to have a North American accent.
You don't generally need to speak a second language – simply speaking English is enough for many online schools, particularly if you're working with advanced students.
Some online schools will require you to have some sort of ESL certification (such as a TEFL certificate) and some will also want you to have a BA degree (it doesn't normally matter what subject this is in).
There are definitely options, though, even if you don't have a degree or if you're still part-way through studying for yours.
You'll also need to be set up to teach online. This means you'll probably need:
A computer (desktop or laptop) with an HD camera. Your laptop may already have one built-in; if not, you can easily buy an HD webcam for around $30 – $50.
A headset with a microphone. While this isn't an absolute must, it'll definitely improve the quality of your audio.
A fast internet connection (usually a download speed of at least 10Mbs).
Some schools do operate via apps, so you may be able to use your phone to teach these – helpful if you want to teach on the go.
How Much Money Can You Make Teaching English Online?
Obviously, how much you can make depends on how many hours you want to work! You could certainly make a good full time living teaching English.
Most online schools offer somewhere between $18 – $30 per hour, sometimes with specific incentives offered that boost your pay from the bottom to the middle or higher end of this range. If you're able to set your own rate, you can theoretically charge what you want, though if you charge too much, it will be hard to get students.
So depending on how much you want to work, at a fairly low rate of $20/hour, you could be looking at:
$100/week for an hour's work Mon – Fri before you go to your day job
$500/week for 25 hours' work across three days a week
$1,000/week for 50 hours' work across six days – though remember to plan for some breaks in between classes!
Keep in mind that you'll need to pay taxes out of your income, as you're effectively self-employed.
One huge benefit of teaching online is that you can do it from pretty much anywhere (so long as the internet connection is good enough) – so you can move to somewhere with a low cost of living.
Where Can You Find English Teaching Jobs Online?
There are lots of different websites you can use in order to make money teaching English online – these tend to work on a model of hiring you (the teacher) to deliver pre-planned classes for their students.
Most have a one-on-one model so that you're just teaching one student at a time. The site itself will handle communicating with students (and/or their parents): you just login, review the class materials, and teach.
With most sites, you can expect to be interviewed – which may well include the site testing your internet connection and the quality of the audio. How well you do in the interview will, in many cases, influence what you get paid.
Note that there's nothing stopping you from signing up with several different sites, especially if you have a lot of time available and want to fill it quickly. Keep in mind, though, that most sites will offer various benefits based on you teaching a certain number of classes (e.g. more pay or lower commission), so you may want to quickly choose a single site to focus on. It can also be difficult to juggle your schedule between two or more different sites.
Here are four of the best to try out:
VIPKid caters to children in China aged 4 – 12, and has teachers all over the world (70,000 of them!) … plus 600,000 students. If you enjoy teaching kids, especially if you have a particular interest in the Chinese language or culture, this is a great site to work for. (You don't need to be able to speak Chinese – though you might find yourself picking up a few words along the way.)
All the materials are prepared for you in the form of slides. They're available between 6 and 12 hours in advance of your lessons: you're expected to login and review those before the lessons.
VIPKid's founders have decades of experience as educators and administrators, so they really know their stuff. They support 300 low-income rural schools in China through their Rural Education Project, providing free English classes to students.
Pay: Up to $22/hour
Requirements:
You'll need a Bachelor's degree – VIPKid doesn't require TEFL experience or qualifications (though it goes without saying that those can't hurt!)
You'll also need to have a computer that meets specific requirements, which you can find here in their FAQs.
How it works:
You set your own weekly schedule (ideally) a month in advance. Your schedule is then set out to students each Saturday, so that students can book you for a class. You'll always get at least 24 hours' notice.
It's up to you what hours you choose to be available, but the most requested times in Beijing time are Monday to Friday 6pm – 1pm and Saturday/Sunday 9am – 10pm, so you'll ideally want to include at least some of those times. (6pm in Beijing is 6am in New York).
Each class lasts for 25 minutes, and you're encouraged to spend up to 5 minutes writing down some feedback for your student.
Based in China, DaDa is similar to VIPKid in that it offers one-to-one lessons – though it's not such a large site (they have around 50,000 students). Most of their students are in China, though some are in other countries. You can choose what hours you want from what they have available, though you do need to commit to these in advance.
Pay:
Varies, because there are quite a few different bonuses available. You can expect around $20 – $22/hour.
Requirements:
You'll need a Bachelor's degree, and DaDa prefers you to have a teaching certificate plus documents to show that you've had a background check run. They also prefer you to have a wired internet connection rather than wifi.
You can live and work from anywhere in the world.
How it works:
DaDa offers "trial classes" so that you're never short of students. If students decide to stay on after the trial, you get a $7 bonus.
Each class lasts for 30 minutes, and you can pick whatever hours you want. You're expected to work a minimum of 10 hours per month (though there are options for taking leave).
You do need to set your schedule far in advance, though, so you won't have the flexibility that other sites offer. DaDa also shuts down for holidays such as Chinese New Year, which you might not be particularly keen to take off.
This site takes a slightly different tack: instead of you listing the hours you're available and students signing up for your classes, you can look through different students' requirements (and the pay rates available) and contact them directly. Students can also search for teachers. It's essentially a tutoring marketplace, and you have more control and flexibility than with other sites.
Preply isn't just an English-teaching site, either: it offers tutors in other languages, such as Spanish, German, Russian, Arabic, and Chinese, plus a whole range of other subjects.
Pay:
You set your own rate on Preply, so you can ask for whatever you want – keep in mind, though, that you may not get any bookings if your rate is too high! You can look at the range of prices that students are willing to pay here.
Requirements:
All you need to sign up for a tutor's account is an email address (or a Facebook account). Your profile will need to be approved, though, and this requires you to create a video introduction, availability schedule, and upload a profile photo.
You don't need teaching experience or certifications (though these can help you attract students)
How it works:
Preply acts as a marketplace matching students with teachers. You have to provide the first lesson with each new student for free (Preply takes 100% commission); after that, the commission varies and can be as high as 33%. You'll need to take this into account when setting your prices.
You can also use Preply to offer local lessons, if you want to do those in addition to (or even instead of) online lessons.
Students can hire you by finding you in the search results on the site. Note that your profile will include reviews from previous students, and you can rank more highly in search results based on these (and also on things like your response time to requests and to student messages).
You can also approach students by looking at what different students are requesting, then offering to teach them.
Preply doesn't supply lesson plans or materials – it's up to you to create these.
Like Preply, italki acts as a marketplace matching students and teachers. You can be a "Professional Teacher" if you have a teaching qualification or background, or a "Community Tutor" if you're simply a native or near-native speaker.
It offers a range of languages (130 of them), and not all of these are open for new teacher/tutor applications at any given time – though you can expect English to be open for both types due to high levels of demand.
You can teach from anywhere, and you can teach as much or as little as you want: as with other sites, students can only schedule lessons during your available timeslots. You can offer trial lessons (for a minimum of $1.00), for which italki doesn't take a commission.
Pay:
You set your own price per lesson.
Italki takes commission on each lesson: this is a 15% fee, rounded up.
You get paid in "italki Credits", which aren't sent to your bank account automatically – you'll need to submit a payment withdrawal request.
Italki itself doesn't charge any fee for withdrawing your Credits, but your payment method might apply a fee.
Requirements:
You don't need a degree, though you will need a teaching qualification (or experience) to become a "Professional Teacher" rather than a "Community Tutor". You will need to have native proficiency or Advanced (C2) level proficiency in your chosen language.
There are a number of very specific requirements for your introduction video, relating to both the content and the technical side of things, so make sure you read these carefully before creating your video.
How it works:
Italki is a marketplace matching up students and teachers. You choose your own pay rate – though obviously, if you charge too much, you might not get any students.
As with Preply, students can rate your lessons: so the better you are at teaching, the more likely you are to be hired by other students.
You'll need to plan your own lessons based on your student's needs. You can use Skype (or another communication tool) – italki doesn't have its own system for talking to students.
There's a lot of information about italki's systems and policies on their website, plus plenty of tips for things like creating a great introduction video (with links to examples) – so do make the most of the help they have available.
—
Whatever site(s) you use to teach English online, remember, you'll need to manage your schedule and make sure you're always available for your booked lessons – you don't want a disappointed student to be wondering why you haven't shown up.
You'll also need to manage your own taxes – these sites pay you as an independent contractor, so they won't be paying taxes (or offering benefits) for you.
Teaching English online, though, can be a great way to make some extra cash on the side … or a great way to enjoy a fun, flexible career.