DWT Grammar Test 1: Take it Now!
It is time to release another test. This time around you will measure your grammar knowledge and skills. If you have been reading the blog for a while you should have no problems with the 20 questions presented….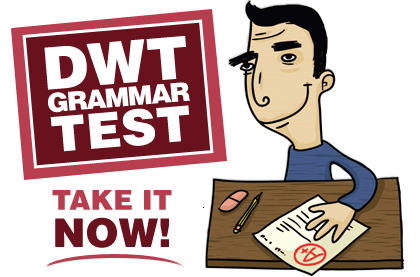 Here is a sample question:
1. ______ shall I say is calling?.
Here is a link for the Grammar Test 1, and let us know how you performed!
Want to improve your English in five minutes a day? Get a subscription and start receiving our writing tips and exercises daily!
Keep learning! Browse the General category, check our popular posts, or choose a related post below:
Stop making those embarrassing mistakes! Subscribe to Daily Writing Tips today!
You will improve your English in only 5 minutes per day, guaranteed!
Subscribers get access to our archives with 800+ interactive exercises!
You'll also get three bonus ebooks completely free!
Try It Free Now