Daily Writing Tips Spelling Test 1
It took us some time, but we are finally up with another test, the Spelling Test 1.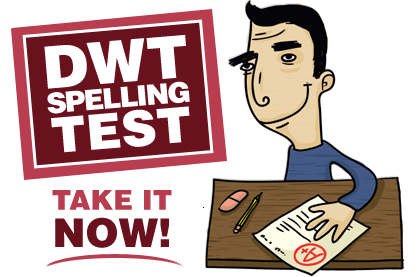 Spelling mistakes represent a common problem on the Internet. Sometimes just one letter separates two words with completely different meanings. Other times we end up transposing a vowel, and the result is hardly noticeable by the eye. Regardless, you should make sure that spelling mistakes are not crippling your writing, and this test is a good opportunity to do so. Here is a teaser:
9. It didn't turn out the way we wanted, _________.
though
tough
through
thought
Do you think you can pass with 100% accuracy? Test your spelling skills now, and let us know the result!
Recommended For You
Share
Subscribe to Receive our Articles and Exercises via Email
You will improve your English in only 5 minutes per day, guaranteed!
Subscribers get access to our exercise archives, writing courses, writing jobs and much more!
You'll also get three bonus ebooks completely free!
Try It Free Now
33 Responses to "Daily Writing Tips Spelling Test 1"
Prameela Mutluri

Hello, I am Prameela. I am very much excited to have a test in this site. Thank you for your refreshment.