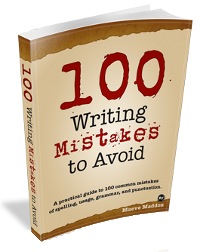 One of the fastest ways to improve your writing skills is to free yourself from the most common English mistakes: things like exchanging less with fewer, misspelling its as it's, or placing commas where they are not supposed to be.
Thinking about this, a couple of months ago I had an idea: what if we could write an ebook with a compilation of the 100 most common writing mistakes of the English language? An ebook containing spelling, grammar, usage and punctuation mistakes, which would work as a quick guide for writers in a hurry who want to avoid such mistakes.
I asked Maeve (our editor) what she thought about the idea, and whether or not she would be interested in writing such an ebook. She liked it and started working on the manuscript immediately. After many rounds of revisions and formatting, we are finally glad to announce that our first ebook is available! The title is: "100 Writing Mistakes to Avoid: A practical guide to 100 common mistakes of spelling, usage, grammar, and punctuation."
Subscribe below to receive a download link via email
What Is Inside The eBook
The ebook has 45 pages and four main sections: Spelling, Grammar, Usage and Punctuation Mistakes. Each mistake comes with correct/incorrect examples, as well as with a brief explanation. Here is a sample page from the book: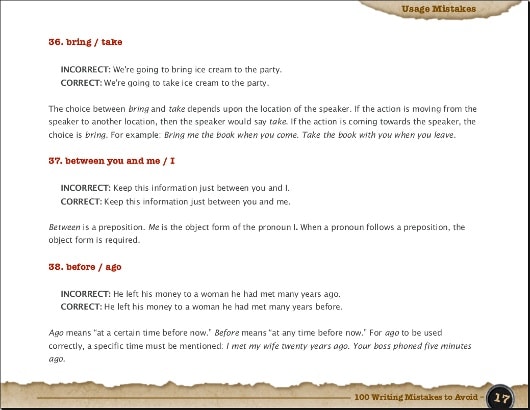 About The Author
Born in Chicago, Maeve has lived, studied, and taught English in the United States, France, and the U.K. Her educational qualifications include a B.A. (Hons) in English from the University of London, and a Ph.D. in Comparative Literature from the University of Arkansas at Fayetteville. She is also a published author of both fiction and non-fiction.
Here Is What People Are Saying About It
Thirty minutes after I got this book I looked up from my screen, a smile of intense satisfaction playing around my lips. It is not every day that one encounters gold nuggets, something this book truly is. (Fredrick Nwonwu)
When you've been writing for as long as I have (my first piece was published in 1958 when I won a national Sunday school magazine short story contest), there is a dangerous tendency to think you know all you need to know, and it's only necessary to come up with brilliant ideas. Well, just when you think you know it all someone comes along to pull you back jerkily to reality. "100 Writing Mistakes to Avoid," by Maeve Maddox, is only 45 pages long, but like the proverbial ant in the elephant's ear, it can have a disproportionate impact on the quality of your writing. (Charles Ray)
Unlike other English grammar books, which are lengthy, complex, and boring, "100 Writing Mistakes To Avoid" is simple, straightforward, and it focus on the 100 mistakes that are probably already hurting your writing pieces. (Satish G.)
This book will make it easier to identify and avoid mistakes which might make our clients think less of us. As a British writer who often writes for an American audience, it's useful to have guidance on a few stylistic points that may feel wrong to me but may be right for my readers. (Sharon Hurley)
Where I think the guide comes in really handy is for writers who are committing these mistakes and may not even realize it. These aren't the kind of things that are picked up in a spell check and unless we know what to look for, in all probability, we will continue oblivious to these types of errors. (Travis King)