100 Writing Mistakes To Avoid – The eBook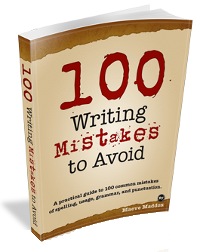 One of the fastest ways to improve your writing skills is to free yourself from the most common English mistakes: things like exchanging less with fewer, misspelling its as it's, or placing commas where they are not supposed to be.
Thinking about this, a couple of months ago I had an idea: what if we could write an ebook with a compilation of the 100 most common writing mistakes of the English language? An ebook containing spelling, grammar, usage and punctuation mistakes, which would work as a quick guide for writers in a hurry who want to avoid such mistakes.
I asked Maeve (our editor) what she thought about the idea, and whether or not she would be interested in writing such an ebook. She liked it and started working on the manuscript immediately. After many rounds of revisions and formatting, we are finally glad to announce that our first ebook is available! The title is: "100 Writing Mistakes to Avoid: A practical guide to 100 common mistakes of spelling, usage, grammar, and punctuation."
What Is Inside The eBook
The ebook has 45 pages and four main sections: Spelling, Grammar, Usage and Punctuation Mistakes. Each mistake comes with correct/incorrect examples, as well as with a brief explanation. Here is a sample page from the book: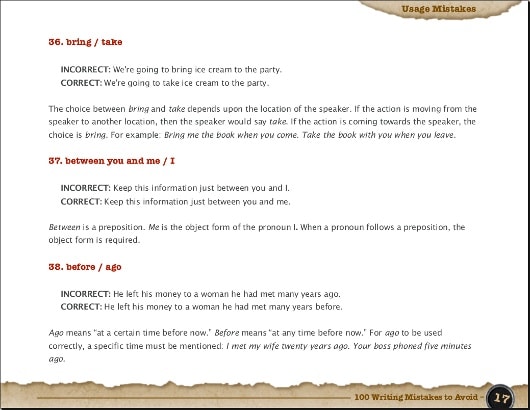 About The Author
Born in Chicago, Maeve has lived, studied, and taught English in the United States, France, and the U.K. Her educational qualifications include a B.A. (Hons) in English from the University of London, and a Ph.D. in Comparative Literature from the University of Arkansas at Fayetteville. She is also a published author of both fiction and non-fiction.
Here Is What People Are Saying About It
Thirty minutes after I got this book I looked up from my screen, a smile of intense satisfaction playing around my lips. It is not every day that one encounters gold nuggets, something this book truly is. (Fredrick Nwonwu)
When you've been writing for as long as I have (my first piece was published in 1958 when I won a national Sunday school magazine short story contest), there is a dangerous tendency to think you know all you need to know, and it's only necessary to come up with brilliant ideas. Well, just when you think you know it all someone comes along to pull you back jerkily to reality. "100 Writing Mistakes to Avoid," by Maeve Maddox, is only 45 pages long, but like the proverbial ant in the elephant's ear, it can have a disproportionate impact on the quality of your writing. (Charles Ray)
Unlike other English grammar books, which are lengthy, complex, and boring, "100 Writing Mistakes To Avoid" is simple, straightforward, and it focus on the 100 mistakes that are probably already hurting your writing pieces. (Satish G.)
This book will make it easier to identify and avoid mistakes which might make our clients think less of us. As a British writer who often writes for an American audience, it's useful to have guidance on a few stylistic points that may feel wrong to me but may be right for my readers. (Sharon Hurley)
Where I think the guide comes in really handy is for writers who are committing these mistakes and may not even realize it. These aren't the kind of things that are picked up in a spell check and unless we know what to look for, in all probability, we will continue oblivious to these types of errors. (Travis King)
Buy and Download It Immediately For Only $19.99 $9.99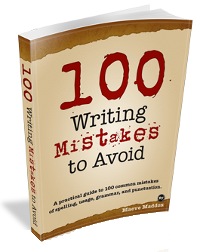 The retail price of the book is $19.99, but in order to celebrate the launch we are offering a 50% discount, so you can buy it today for only $9.99. If you think about it, that is $0.09 for each writing mistake you'll learn about. Sounds like a good deal? You bet it is!
The book is available in digital format. You'll be able to download the PDF document right after completing the purchase.
The payment is processed by PayPal, which is one of the most reliable companies online. You'll be able to pay with your Paypal account if you have one, or with your credit card.
100% Money-Back Guarantee – You Have Nothing to Lose!
Not sure about buying? Well, there is absolutely no risk involved. If you purchase and don't like the book, we'll be glad to refund 100% of your money. No questions asked. Simply get in touch with us through our contact page, mention your order number, and we'll refund the money on the same day.
P.S. – Out of hundreds of buyers, only one person asked for a refund so far, so people must be liking the content of the book. What are you waiting for to get your copy?
Subscribe to Receive our Articles and Exercises via Email
You will improve your English in only 5 minutes per day, guaranteed!
Subscribers get access to our exercise archives, writing courses, writing jobs and much more!
You'll also get three bonus ebooks completely free!
Try It Free Now
50 Responses to "100 Writing Mistakes To Avoid – The eBook"
Ms. B.

I can't wait until this comes out in book form. It will make a great gift for students!

Daniel Scocco

@Ms. B., we are working on it, and thanks for the encouragement!

Ms. B.

Don't know how that was got there – should have been will! 😉

It *will* make a great gift!

Daniel Scocco

@Ms. B., fixed it for you.

Ms. B.

Thanks Daniel! As I always say, "Even an editor needs an editor sometimes!" 😉

S.Blankstein

With all my respect… As I see these three examples 29, 30, 31 on the screenshot: Maybe these people should not write at all? just speak? or, even better, stay mum?

Daniel Scocco

@S. Blankstein, maybe they'll get it right after reading the book 🙂 .

Anita Djandoh

great book, how soon will it be available in book form?

Daniel Scocco

@Anita, hopefully within a couple of months.

Tengku Shahrizan

What about the rampant misusage of apostrophes ? i.e. Do's and Don'ts……

Daniel Scocco

@Tengku, we cover that in the book.

Sarika Singhania

would like to know from where can I get this book in India.

Daniel Scocco

@Sarika, currently only the digital version is available, so you'll be able to download it from anywhere in the world.

Odjie

I've been sbcribing ur web for quite a while, glad u finally wrote a book.
Would be very interesting. Would the hardcopy version be sold around Australia, say Perth?

Daniel Scocco

@Odjie, the hard copy version is not available yet. But when we release yes, it will be sold globally.

Patricia

Daniel I ordered to book 100 writing mistakes to avoid. Paid with pay pal. When I tried to get the book it said thank you for your order but you did not get the payment from pay pal yet. Click here if not received in so many seconds. I see now that the payment has come out of pay pal but I still can't get the book. Please advise. Thanks.

Daniel Scocco

@Patricia, just send an email to danielATdailywritingtips.com and I'll send you the book.

Denise Lechner

Awesome,
I really hope I get my money on the paypal account soon that I can order it!

*thumbs up guys*

Alan – $100K Small Business Coach

I believe that proper use of the English language is important when you consider your market. Some people will not read your material or purchase if they find one spelling mistake (my wife is that way, that's how I know this).

But, when it comes to copywriting for sales, I look only at whether it entices more people to read, and whether they do what I want them to do . . . buy or signup for more.

My wife, would rewrite everything I do, and used to, but as she rewrote . . . my sales went down. My skills with the technical aspects of the English language isn't as good as my wife's, but knowing what to say and how to say it even with a few mispelled words and improper use of language structure far outweighs the results I get when focusing on perfect English language.

It all boils down to measuring what connects with your market and going with what works.

emmanuelmaclar

it is good tom speak the right word in our day-to-day activities

Anoo

Is the published book going to be different from the digital version?

Daniel Scocco

@Anoo, no, it is going to be the same thing.

Adriana Paech

I love your work. Thanks so much! I just like to heard something on de use of "have" and "have got". I have great difficulty in using or understanding the "Got" (passtence of Get of course) when used with "have".
Thanks again.

Sonja Pantry

When will the book be available?

Lynn Jarrett

How do I purchase a paperback version of the "100 Writing Mistakes to Avoid"?

Daniel Scocco

@Sonja and Lynn, I am working to get the Kindle version done right now, and after that I'll try to get the print one out there. Hopefully within a couple of months we'll have it.

Graciela West

After I printed out the book, I looked at it and wondered what in these 45 pages could be worth $10. Then, after I quizzed my self on the book's content, then realized how many mistakes I make, I felt humbled and grateful. Great service.

Lynn Jarrett

How do I obtain the paperback version of the "100 Writing Mistakes to Avoid"?

Thank you.

Daniel Scocco

@Lynn, we are working to get the paperback version out soon.

naomi hamm

yes, they are very different. Know it and then show it. and then you will show your professionalism.

Samuel Lewis

I am trying to buy the book. The link 'add to cart' will not activate. Don't you sell outside the USA??

Samuel Lewis

How do I obtain a paperback version, which I prefer?
Sam Lewis

Mary

I want this book!

Daniel Scocco

@Samuel, yes, you can buy it from anywhere in the world.

Christof Kilb

I've just purchased the book and got the receipt but WHERE is the download LINK? Please assist immediately

Shanker Bakshi

Do you have any Affiliate program, i love to promote it thru my blog, leads and FB ads.

magnus

Would you mind setting out other payment alternatives than paypal. In light of recent censorship by paypal, I'd hate to have to reopen my account there to buy your book.

Mary

Is there a hard copy of the book out yet? I would love to have one of these.

Nemo

I'm still waffling about buying it, but I really really want it. The idea that I might be committing grammar crimes makes me feel all tingly inside knowing that even with my fancy education there's still a lot to learn.

I'll probably ignore some of the grammar rules with the excuse of "but it sounds better!" but I want to KNOW which grammar rules I'm ignoring and why. Maybe hide a few in my emails to see if one of my grammar nut friends picks up on them.

ana marie c. cabigas

Hi and a Happy New Year!

I am interested to have a copy of this book. May I know how much is this now?

Thanks,

Ann Cabigas
Cebu City, Philippines

khalid alganim

I'm thankful for your help and i hope you to give us more guide to teach the foundations of English language
khalid alganim / Iraq / Basrah

Faris Pallackal

Received along with the first post, thank you.

J

When will you sell the hard copy?
Is it possible to get the book using money order?

standede

please, i need your materials badly and urgently. please, how can this work? i am in Nigeria

ysabel

Hi,
I would like to order a hard copy version…please? thanks

Retta McSweeney

Sign me up for the book. I find a book more useful for I am able to highlight a line or a paragraph or write a note in a margin to refer me to other pages for comparisons or similarities. I will anxiously await the good news when the book is "hot off the press."

Retta

Andy

I can't spell or punctuate (C student) but do close large deals all the time. You teach English but can't close a $10 book sale. Hmmm?

Please let me know when your master card works.

Neha

When can I buy the paperback version of this book?

Many Thanks

mahin

I actually like to buy the book, have it, and study it to learn how to avoid the students' mistakes, particularly in writing. But honestly, since it is the beginning of my work, I cannot afford to buy it now. So Iwould very much appreciate if you only guide me how I can make the students learn to use simple form of the verb after modals and auxilaries
Your prompt answer would be highly appreciated.
Yours truly
Mahin

Judy Archer

I'm in the process of ordering your publication "100 Writing Mistakes To Avod", however PayPal is a problem. I have a PayPal account funded by a credit card already established. I seldom us it,but have it. I logged on and tried to purchase the above. PayPal said had to verify the credit card (now I've had the **** thing 35 yrs so should not have to verify again). I put in the information and was advised PayPal would charge the account $1.95 to verify and with that charge there would be a 4 digit code to use on the PayPal order page, blah, blah, blah. Well, none of this sounded right so I called them. Young man says I much check credit card statement for 4 digit code. With him still on the line I logon to the credit card site. The $1.95 charge is there (all under pending charges) with no code in sight. So I either have to use another card (how long to verify that one?) or wait 2 days to see if the code appears on credit card statement. A lot of time spent to purchase your publication. I may try again because I'd like to have it, but I may not too.