Voice suggests the sound or feeling communicated in your writing. Just as you communicate with your tone of voice and word choice in everyday conversation, the same concept applies to writing. Voice goes hand in hand with the all-important consideration of audience. You must choose your words and adjust your writing voice with a high level of sensitivity so as to communicate effectively with your chosen audience. Instead of my yammering on about voice in abstract terms, take a look at the following examples.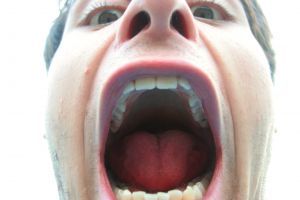 A letter from the principal sent home to a child's father:
Our institution's cross-curricular, multi-ethnic, individuated learning system was created to enhance the concept of an open-ended educational program with particular specialization in the continuum of multi-ethnic, academically enhanced learning strategies, employing the identified scholastically gifted child as the director of his own learning.
The father's response:
I have an advanced degree, speak three foreign languages and two Russian dialects, have been to a number of aboriginal fertility ceremonies and The Running of the Bulls, but I haven't the foggiest idea as to what the heck you are talking about. Do you?
In both cases, the individuals write with a distinctive voice. The first is cold, calculated, and crammed full of lingo that caters to a very specific educational community. The second powerfully communicates a sense of educated distaste and frustration. The first example falls short because the principal fails to address his audience with sensitivity, thus losing and frustrating the reader. He also loses his credibility in the process. The father's response is the equivalent of a written slap in the face or a scream without ever having to open his mouth.
Word choice and the resulting voice can be a very powerful tool in writing. Choose your language and method of delivery wisely!