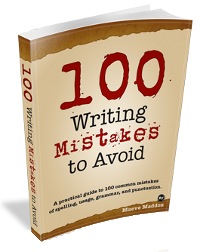 As you probably remember, a couple of weeks ago we launched our first book (in digital format). The title is: "100 Writing Mistakes to Avoid: A practical guide to 100 common mistakes of spelling, usage, grammar, and punctuation."
It came out with a promotional price of $9.99, and after one week it went up to $19.99. Some readers emailed us saying that they missed the discount window, asking if we could bring the promotional price back.
Guess what? We just did. The price is back to $9.99, and we'll probably keep it there until we sell at least 1000 copies.
So far only one person asked for a refund as well, so the buyers must be liking the content of the book!
What about you, what are you waiting for to get your copy? Click here to visit the book page where you'll get all the details and be able to order it.
Already bought the book? Send us your testimonial!
If you already purchased the book and liked it, you can send us your testimonial. We'll feature it, along with your name (and website if you have one) in a future post. You can email it to [email protected]