Last Day to Grab Our Book For Half The Price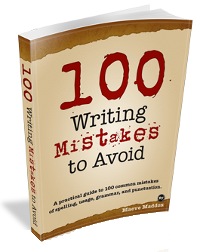 As you probably remember, last Tuesday we launched our first book, titled "100 Writing Mistakes to Avoid." In order to celebrate the launch we decided to offer a 50% discount, but this is going to end today, June 29 (midnight EST).
Don't let this opportunity pass if you are on the fence about buying. You'll pay only $9.99 instead of $19.99. We also offer a 100% money-back guarantee, so there is no risk involved. If you buy the book and don't like it, we'll refund your money on the same day (only one person asked for a refund so far, out of hundreds of buyers, and it was because she thought she was buying a print book).
Currently only the digital version is available, which means that you'll be able to download the book in PDF format right after your payment is processed.
Review Copies Available
If you have a blog or website and want to review our book, we'll send you a free review copy. Simply send an email to daniel@dailywritingtips.com, including the URL of your website, and I'll get back to you promptly.

Finally, I wanted to thank all the readers who purchased the book already. We take it as a sign of support and appreciation for the work we put on the blog.

Recommended for you: « Is She a "Lady" or a "Woman"? »



Subscribe to Receive our Articles and Exercises via Email
You will improve your English in only 5 minutes per day, guaranteed!
Subscribers get access to our exercise archives, writing courses, writing jobs and much more!
You'll also get three bonus ebooks completely free!
Try It Free Now
1 Response to "Last Day to Grab Our Book For Half The Price"
PreciseEdit

The book looks great–and Maeve knows her stuff. Best of luck on sales!

(Just read the article on "luck" words–can you tell?)