The problem with spelling-challenged cake decorators is that they don't have to eat their words, so sometimes they get a little careless, or display their ignorance on the icing. And though the purchasers can try to devour the evidence, there always seems to be somebody around to document the sweet screw-ups.

Absent the sloppy lettering, this is a very well-done icing job. But not only is the cursive writing poorly executed (note the m and the n in particular), the cake decorator is also one of the seemingly innumerable people who mistakenly believes that the correct way to form a plural is to add an apostrophe and an s. Job applicants for this line of work should have to pass an English test.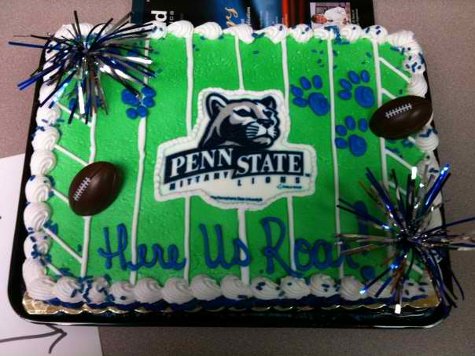 Next to Pennsylvania State University's heinous football-program scandal, this is a trivial matter: The cake decorator misspelled the first word of this message. In an odd way, though, it works when interpreted as a series of the kind of monosyllabic grunts you'd expect football fanatics to utter: "Here." (Getting attention.) "Us." (Identifying the subjects.) "Roar." (Describing the subjects' actions.)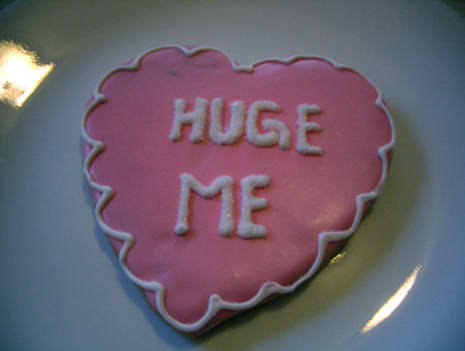 If you eat too many of these things, "Huge me" might be an appropriate admission. But there is no silent e in hug, folks.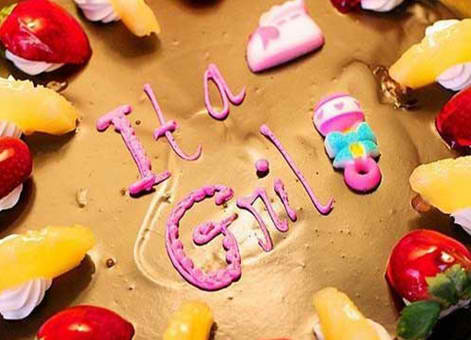 Not only does the decorator have poor cursive skills, but the person also impressively committed three errors in three words consisting (when rendered correctly) of a total of eight letters and a couple of marks. Besides omitting the possessive apostrophe and s required in it's and spelling girl incorrectly, the perpetrator failed to incite excitement with an exclamation point. It a gril. Ho-hum.

OK, let's sit back and think about this for a moment: This is an exhibit of the work of someone who either has never heard of the Star Trek franchise (impossible) or committed this odd transposition error while inebriated or otherwise incapacitated (highly unlikely, considering that the lettering job is otherwise admirable). So, is this an inside joke about teleportation? Highly illogical, Captain, but fascinating.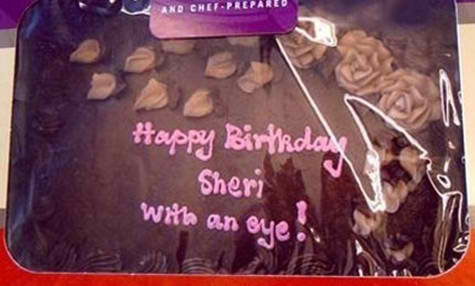 This error also calls for analysis. My deduction: The message was phoned in: "I'd like it to say 'Sheri,' with an i." The cake decorator interpreted the message differently. Why? Who in their right mind would think the message, as presented, has any meaning to anyone? The perpetrator was obviously not mentally engaged — or was mentally deranged — during the creative process.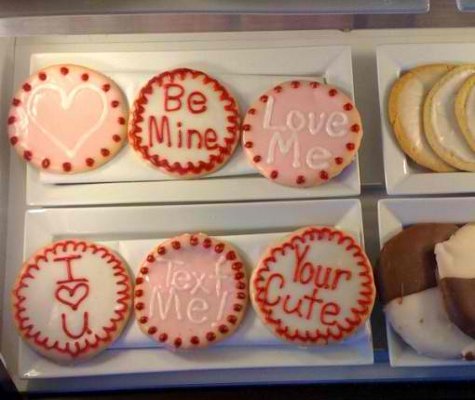 "Your cute" what? Oh, the decorator ran out of space for "smile" or whatever. Wrong. It should be "You're cute." But the number of people who don't know or understand the difference between you're and your is increasing — exponentially, in my perception — and our cookie decorator is one of them.
These images are from the websites Apostrophe Abuse, English Fail Blog, and Wordsplosion!