Daily Writing Tips Spelling Test 1
It took us some time, but we are finally up with another test, the Spelling Test 1.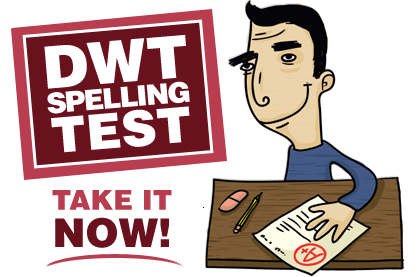 Spelling mistakes represent a common problem on the Internet. Sometimes just one letter separates two words with completely different meanings. Other times we end up transposing a vowel, and the result is hardly noticeable by the eye. Regardless, you should make sure that spelling mistakes are not crippling your writing, and this test is a good opportunity to do so. Here is a teaser:
9. It didn't turn out the way we wanted, _________.
though
tough
through
thought
Do you think you can pass with 100% accuracy? Test your spelling skills now, and let us know the result!
Subscribe to Receive our Articles and Exercises via Email
You will improve your English in only 5 minutes per day, guaranteed!
Subscribers get access to our exercise archives, writing courses, writing jobs and much more!
You'll also get three bonus ebooks completely free!
Try It Free Now
33 Responses to "Daily Writing Tips Spelling Test 1"
The How-To Geek

Question five has a weird answer…

Daniel Scocco

How come Geek? People forget to eat once in a while also 🙂 .

M

i has the 95% skor

Sharon

100%. That was fun!

–Deb

I got a 100%. My 5th grade teacher would be so proud (grin).

(And, "cUmpliments?" Tee!)

Daniel Scocco

Deb, I was out of ideas on that one 🙂 .

Karen

95%. I knew I wasn't sure about "embarrassment!"

elkit

I got 95%, "allright/alright/all right" always trips me up.

Charlie Rapple

I was lucky to get 100% as I had to make a guess on "earnest payment" – this concept/terminology does not exist in the UK!

Akhil

75% 🙁

BTW, in Q2, option 1 and 4 are the same.

Daniel Scocco

Akhil, they are not.

Farinha

85%

I guess it's not too bad, considering English is not my mother tongue.

Missed the "all right" and the "embarrassment" ones.

Silicon

I scored %100, because I knew 'all right' would be the answer, however, I think alright should have word status

Thomas GvL

95%, embarrassment got me 🙂

David in San Antonio

I scored 100. Looks as if those years as a copy editer payd off!

David in San Antonio

elkit, there was a restaurant here in town that once had a neon sign above the entrance that read, "Is everything alright?" I would go in and say, "No, it isn't," but the owner wasn't amused.

Bobbi-lee

I got number 13 wrong, but that is only because I have never used that word before.

Shankar Ganesh

Yes, I wasn't sure of 'embarrassment'. But now I know it, thanks to the test!

guardian angel

I cannot believe I had an 80%. I think I should already use eyeglasses or join my kids in school.

That was a very entertaining spelling review, though.

Thanks for this.

Timothy

90%
As a non-native English speaker, I say, it's not too bad. 😉

Renee

95% but I'm not embarrassed about it! 🙂

Neil Kosterman

95% – fun.

Roshawn

90% here. 🙂

Jaguar

95% — I'm so embarassed! 😉

Cathy in NZ

challenging a tad as my NZ english is not quite the same as your American english

Kate Jones

90%, and since English is not my native tongue I was pleasantly 'surpised'.
I wonder if non-native speakers pay more attention to spelling/grammar differences (its/it's, you're/your) sometimes?

Bernie Zimmermann

It was interesting to take this test because I saw so many of the errors I encounter on a regular basis at work. However, I know that if any of the offenders took this test, their score wouldn't quite be indicative of their tendencies, because they'd be explicitly focusing on the right answers. When they aren't, though, it's a free-for-all.

Good test, nonetheless, though. I got a 90%. I know I got the "alright" one wrong, and I think I must have gotten the "embarrassing" one incorrect as well.

SEO Basic Guide

I've got 85% to

It's not to bad for a non English speaking person wow 🙂

T.Vilaça

Not that bad. 95%.

Ok, now you fine people willing to make the world speak better English, could you guys please give me a tip on 'alright'?

Of course I know it came from 'all right'. But what's the deal? Why is the form 'alright' wrong? I thought it was actually more common than the separeted one. Does it sound/ look really that bad ?( I'm not a native speaker as well, so it sounds ok to me).

One more reason:
If I say 'the answers were all right' there's no doubt. All of them were right.
But when I want to use it as a adjective?
Like in 'It's alright to improvise.'
And…
Can I use it as an adverb?
Like in 'I'm doing well' = 'I'm doing alright' ?
Enlighten me on that please!
Thanx

Tejarmai Yerroju

I like this way of refreshing the mind of students as well as English learners. Thank you

Prameela Mutluri

Hello, I am Prameela. I am very much excited to have a test in this site. Thank you for your refreshment.